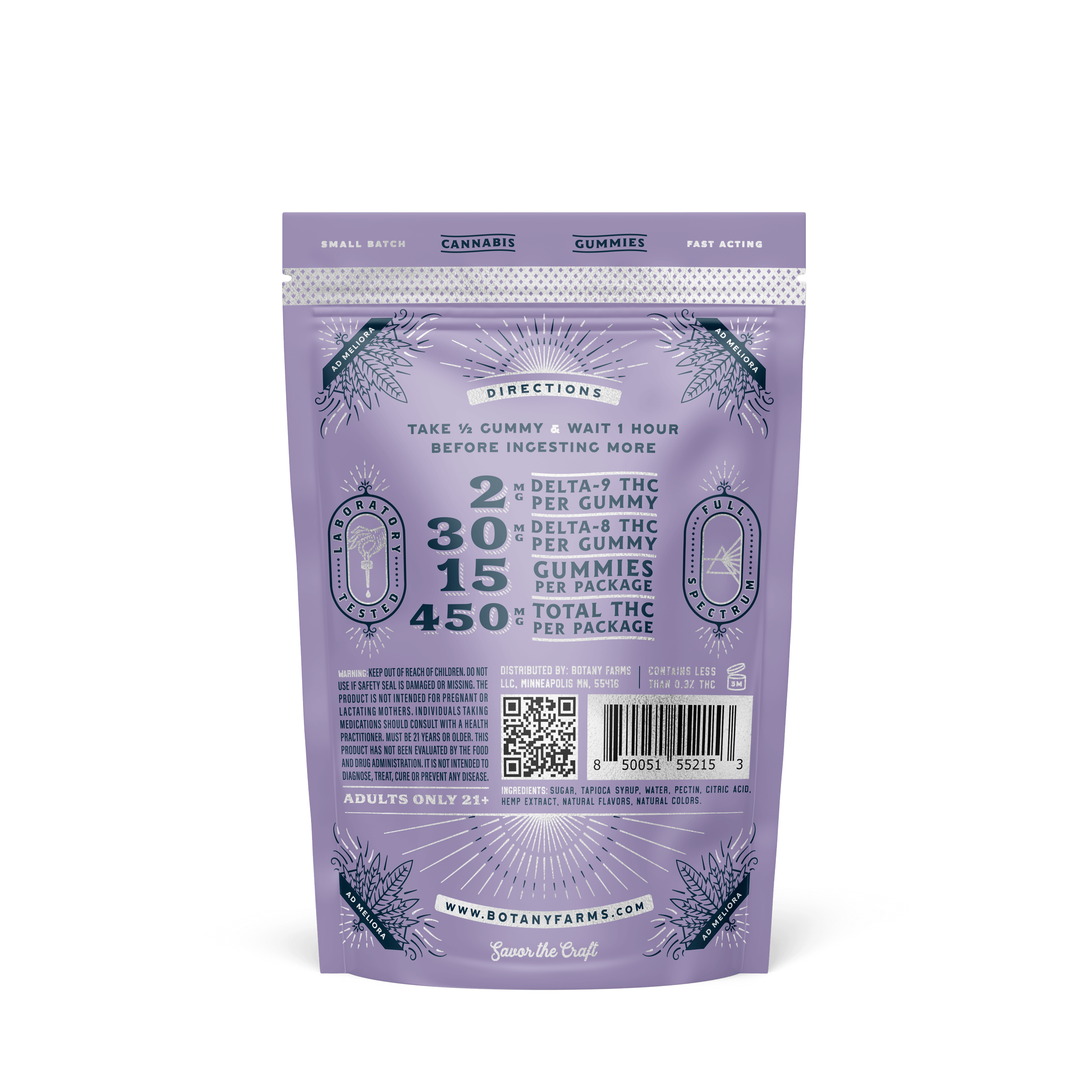 Delta-8 THC Gummies
∆-8 THC per Gummy: 30 mg
∆-9 THC per Gummy: 2 mg

Our Delta-8 THC Gummies contain 30 mg of Delta-8 THC and 2 mg of Delta-9 THC per gummy. 

Delta-8 THC is known to induce relaxation at the end of the day and can also contribute to a good night's rest. Many consumers prefer Delta-8 THC to Delta-9 THC as the feeling is similar, however, Delta-8 THC rarely produces the unwanted side effects commonly experienced with other high THC cannabis products.
We highly recommend consuming them in the evening after all of your daily tasks are taken care of in order to truly enjoy the effects of Delta-8 THC.
*We strongly encourage to start with 1/2 gummy and wait up to an hour before ingesting any more. This product can be used at anytime of the day, however, due to the THC present, we recommend that you find what dosage works for you in a comfortable environment and avoid operating heavy machinery.*
Ingredients: Corn Syrup, Cane Sugar, Water, Natural Fruit Pectin, Baking Soda, Natural Flavor, Natural Color, Hemp-Derived Cannabinoids
These statements have not been evaluated by the Food and Drug administration. This product is not intended to diagnose, treat, cure or prevent any disease. All products contain less than 0.3% Δ9 THC.
Pink Lemonade, Pineapple, Mango, Tropical Mix
This product can be used any time.
Total Cannabinoids: 480 mg
Total Gummies: 15
∆-8 THC per Gummy: 30 mg
∆-9 THC per Gummy: 2 mg

Room Temperature. Keep out of direct sunlight.
Feeling good should be a given, and we see a future of balance through our botanicals.
FREQUENTLY ✦ ASKED ✦ QUESTIONS
About our THC products
Yes. Our hemp-derived THC products will produce a 'head high' similar to marijuana.
Our THC products are legal in all 50 states in accordance to the federal government. It is important to note that these laws can change quickly and it is up to the customer to check to see if THC products are legal in your specific state.
Hemp-Derived THC has been known to benefit many a healthy lifestyle by relieving stress, aiding in sleep, and improving memory, just to name a few upsides.
Our Hemp-Derived THC products are not addictive. However, many people incorporate it into their daily routine after experiencing all the positives of this holistic plant.
What is the legal age to smoke hemp flower?

The federal legal smoking age for hemp flower is 21.
Is your hemp-derived THC organic?

Our hemp-derived THC is grown with organic practices in the United States. Though Organic products typically feature a government stamp of legitimacy. Ours is forthcoming, as it takes time to make things official on paper. In the mea
Is your packaging discreet?

Yes! All of of our orders are shipped in unmarked boxes.
Our hemp-derived THC products will be detected on a drug test, so we recommend you speak to your HR department about their policy on THC products.
What is your return policy?

Currently, we do not offer returns or exchanges on orders. Due to our strict quality and safety protocols, we cannot resell any products that have left our warehouse. However, if you experience any issues with your product, please reach out to customer support at team@botanyfarms.com.
Are Botany Farms products vegan?

Yes, all of our products are vegan.
Can I take Botany Farms products if I'm pregnant or breastfeeding?

Please consult your physician if you are pregnant, breastfeeding, have a medical condition or are taking any medication.
Can I take Botany Farms products with other supplements, or drugs/medications?

Please consult your physician if you are taking any medication, are pregnant or nursing.
What is the shelf life of Botany Farms products?

To ensure the most enjoyable experience, we recommend consuming all of our products within 3 months of opening the container.
Can I give Botany Farms products to my children?

Botany Farms products are formulated for adult-use only.
How should I store your products?

It's best to store all of our products at room temperature and away from direct sunlight.
This product has no reviews yet.